On the impact of the stress situation on the optical properties of $WSe_2$ monolayers under high pressure
Adrián Francisco-López

Institut de Ciència de Materials de Barcelona

Bo Han

Université de Toulouse

Delphine Lagarde

Université de Toulouse

Xavier Marie

Université de Toulouse

Bernhard Urbaszek

Université de Toulouse

Cedric Robert

Université de Toulouse

Alejandro Goñi

Institut de Ciència de Materials de Barcelona
Keywords:
dichalcogeneides, monolayers, high pressure, Raman, photoluminescence, stress-strain tensors
Abstract
We have studied the optical properties of $WSe_2$ monolayers (ML) by means of photoluminescence (PL), PL excitation (PLE) and Raman scattering spectroscopy at room temperature and as a function of hydrostatic pressure up to ca. 12 GPa. For comparison the study comprises two cases: A single $WSe_2$ ML directly transferred onto one of the diamonds of the diamond anvil cell and a $WSe_2$ ML encapsulated into hexagonal boron nitride (hBN) layers. The pressure dependence of the A and B exciton, as determined by PL and PLE, respectively, is very different for the case of the bare $WSe_2$ ML and the $hBN/WSe_2-ML/hBN$ heterostructure. Whereas for the latter the A and B exciton energy increases linearly with increasing pressure at a rate of 3.5 to 3.8 meV/GPa, for the bare $WSe_2$ ML the A and B exciton energy decreases with a coefficient of -3.1 and -1.3 meV/GPa, respectively. We interpret that this behavior is due to a different stress situation. For a single ML the stress tensor is essentially uniaxial with the compressive stress component in the direction perpendicular to the plane of the ML. In contrast, for the substantially thicker $hBN/WSe_2-ML/hBN$ heterostructure the compression is hydrostatic. The results from an analysis of the pressure dependence of the frequency of Raman active modes comply with the interpretation of having a different stress situation in each case.
Reviewed by: A. San Miguel, Institut Lumière Matière, Université de Lyon, France; Edited by: J. S. Reparaz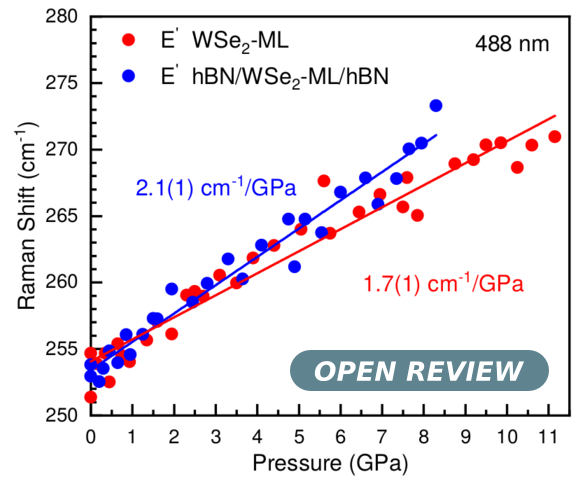 How to Cite
Francisco-López, A., Han, B., Lagarde, D., Marie, X., Urbaszek, B., Robert, C., & Goñi, A. (2019). On the impact of the stress situation on the optical properties of $WSe_2$ monolayers under high pressure. Papers in Physics, 11, 110005. https://doi.org/10.4279/pip.110005
Copyright (c) 2019 Adrián Francisco-López, Bo Han, Delphine Lagarde, Xavier Marie, Bernhard Urbaszek, Cedric Robert, Alejandro Goñi
This work is licensed under a Creative Commons Attribution 4.0 International License.
Authors agree to the PIP Copyleft Notice